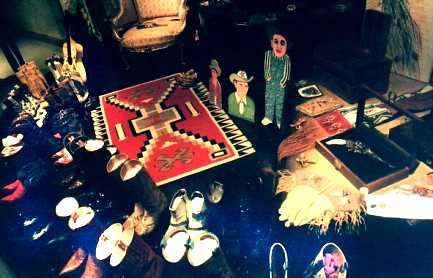 Every treasure has a memory and a story and when you sit in the middle of it, I mean it, they send off an incredible energy. Some of the things that came from the Hank Williams Exhibit, I bought from his sister, Irene. And Irene made it very clear that, you know, there were principles that went along this. That there were to be uh...treat it with dignity. Never exploit it. Always protect it. Almost like the Ark of the Hillbilly covenant and so that's the way I've viewed these things, and it's been great to have them in my own possession for a while.
But there comes a point that you really need to expand and turn 'em back over to the public. What a great way to find out about our people, our heritage, our characters, our singers, our songwriters and things that meant something to them. The designers. This is all Americana. This is all art, and it belongs to country music and goes to our treasure chest. I think that no finer place could it be exhibited than the Country Music Hall of Fame for you to enjoy.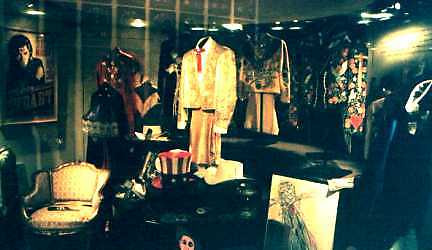 I think country music memorabilia started out to be just a little hobby in my bedroom. But when I came to Nashville and went to work with Lester Flatt, all of a sudden, I was in the middle of Hillbilly Hollywood and all these things I'd watched on TV and that I had just enjoyed thinkin' about.....there I was in the middle of 'em.
And this is a pick that belonged to Lester Flatt. And on the inside, you probably can't see it, but he'd take his pocket knife and scratch out a place where it would stay on his thumb better. And I know we were in Florida one day, Laudy, Florida. He came off the stage and said, "Well, this is about worn out," and I said, "Let me have it." And he handed it to me. It didn't mean a lot to anybody, but it meant a lot to me.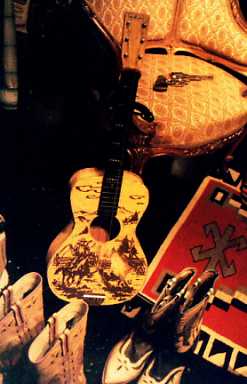 On this hand he'd put this one and this one, and this one....together you have Earl Scruggs picks. So you have Flatt and Scruggs music on these two hands. Think of the music that's come through these picks. Think of the music that's come through these picks and it's a big part of my life.
I always view pickin' up these kind of treasures as kinda holdin' on to country music's history and, at the same time, holdin' to a piece of America's heritage and now that we're into another century, these things take on a whole different meaning because so many of these people aren't with us anymore. But these things still are the memories, they still are.
I always call these artifacts treasures. They're all like treasures and they come from the most unlikely places sometimes. Take this one for instance. This is Patsy Cline's carryin' case -- her make-up kit. I found it in a second-hand store, an antique store on Eighth Avenue in Nashville. The thing that I'd spotted from across the room and a long distance was the hand-tooled, stamped kinda thing. Then when I got up real close to it, I noticed the words "Patsy Cline" and I almost fell over. And when I opened it up and it says "Patsy Cline, 3024 Hillhurst Drive in Madison, Tennessee." So I put a blanket over it and went and called her husband, Charlie Dick. I said, "Charlie, where'd you guys live in Madison?" He says, "I don't remember the number, but it was on Hillhurst Drive, I think." I went, "Thank you very much." So that was all the authenticity and the verification I needed for it, so I went up and I just set it up on the counter and the lady charged me $75 for it. And......Patsy's train case was rescued.

When I was a little boy in Mississippi, all these shows like Porter Wagoner and the Wilburn Brothers, all these country music stars from Nashville had 30-minute syndicated television shows. I'd watch 'em and I loved the clothes that they wore. And our TV was black and white, so I never did get to see 'em in color until I saw 'em live and in person when I came to the Opry when I joined Lester Flatt's band. So I found out from the band members that wore these kinda clothes that they came from a place in Hollywood called Nudie's Rodeo Tailor.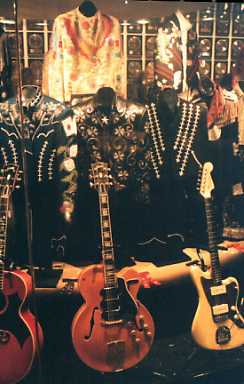 So, the first time I went to Nudie's, I was with Lester Flatt's band in 1974. And I had somebody drop me off at Nudie's and I had $250 saved to buy me a rhinestone suit. So I went in there and announced that I'd like to buy a rhinestone suit. "I like this one," and Nudie said, "It's $2,500."
I just.........it CRUSHED me. And Manuel was the fellow that worked there at the time and Manuel was the head designer and the head tailor. Now he's gone on to be the King of Cowboy Coutier in his own right, but he stepped in and said, "What's your name kid?" I said, "I'm Marty Stuart." And he said, "My name's Manuel. Some day you'll come in here and buy every suit in the store, but today you get a free shirt."
This is the shirt that he gave me. It had embroidery and the red piping and on the cowboy yokes and everything, and this is a special treasure to me because Manuel has gone on to be my friend and my advisor. He's my brother and my designer. He's helped create my image and, uh, it was this act of love and kindness that started our whole relationship. I said this was the first piece I ever got when I went to Nudie's Rodeo Tailors in North Hollywood, California. And then about 20 years later, I went to a Manuel store and took a royalty check and bought this one, and that's what I went there to do in the first place.
---
---