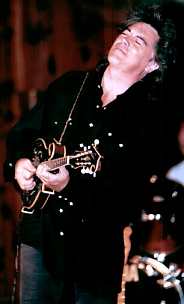 LeRoy really entertained! Marty needs to bring him back again. The crowd really loved him. Ya hear that Marty? Next, it was back to Marty and the Rock and Roll Cowboys. Someone sent a note to Marty requesting he play "The Weight" or "Burn Me Down" in honor of someone's 19th wedding anniversary. Marty cracked up over that but decided to play "The Weight. Marty did his Bob Dylan imitation on the third verse.

He went straight into "The Pilgrim." This is the powerfully emotionally-charged title song from the album. He motioned for his mom to come up on stage with him. She stood beside him while he performed the song. When he got to the second verse, he could not finish it. Tears were welled up in his eyes. He couldn't even remember the words to the song. The crowd applauded and he asked Brad to finish it for him.

Every time I ask myself what it is about Marty that makes fans love him so much and I witness Marty baring his heart and soul to us, then it's so clear. Marty's heart is what guides him through life.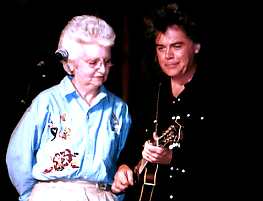 He was able to continue to play the mandolin through the song, but this was the final song of the concert portion of the fan club party. Marty ended the show by saying "Thank you all very much. Thank you for coming." His mama said "I believe that's the reason I leave it all to him. I just stay behind and let him go." Marty says "thank you mama." He asked us to give the Rock and Roll Cowboys a big hand (they always do such a wonderful job for Marty). Marty said "Baby, thank you for singing for us (he meant Connie), Leroy, thank you. And I want to thank more than anybody Jodee and Sherry (did he mean ME?), and Willie Wilson down at our office and Maria-Elena. And I see my lovely Pat Johnson over there, my Knoxville girls, Glenda and Clarence, all of you, my cookie girls, Ellie, all of you that follow us around. Thank you so much for every single mile you travel. I know what's out there. How much there is to compete with and I appreciate you coming to see us. And just to show you how much I love you, I'm gonna let you throw balls at Mike Copelin. If you got enough money, I'll get wet today, all right? Have a wet T-shirt contest."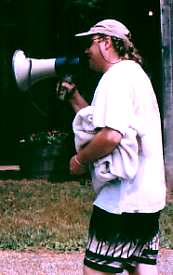 He mentioned his book of photographs coming out in September and the photo exhibit at Cheekwood. He also invited everyone to the groundbreaking of the Country Music Hall of Fame on Thursday. He said he would be in the booth at Fan Fair during the week, he was doing the MCA Show, the Superstar Spectacular, he said he was doing a thing on the Country Music Hall of Fame on the TNN Music City News Country Awards that night. He also said, "Thank you for everything. The Pilgrim's out tomorrow. Go pick you up a copy and I hope you love it as much as I love you. Thank you very much."
Mike then started lining up folks for the autograph line. He said it was his 10th year with Marty and it keeps getting better. We got the best fans in the world. You all keep coming out, okay?"
While Marty was signing autographs and posing for pictures, Mike got in the dunk tank again this year to raise money for the fan club. Here he is trying to drum up some business before he gets in the tank. Come on Mike, do you REALLY need that bullhorn? Enjoy these other photos from the fan club party! If you've enjoyed what you've read and seen here, we hope you will be part of the fun in June 2000. Don't forget to check out the Marty & Friends page for photos of the fans with Marty.