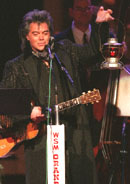 Jimmie Rodgers' old railroad lantern burned brightly for the late Hank Snow, and his friends shared warm reminiscences of the Singing Ranger yesterday during a funeral at the Grand Ole Opry House.
Marty Stuart brought the lantern to the Opry House, where several hundred mourners, including family, friends, fans and musical colleagues, paid tribute to Mr. Snow during a ceremony lasting two hours, 45 minutes.
Mr. Snow, who died Monday at 85, was greatly influenced by Rodgers early in his career. A native of Canada, he fashioned his singing style and repertoire after Rodgers, whom he first heard on record.
Stuart placed the lighted lantern, given to him by Mr. Snow, near the casket before performing several songs from Mr. Snow's repertoire.
The singer's son, the Rev. Jimmy Rodgers Snow, presided over the memorial to his father. He appeared to be especially affected by Stuart's instrumental performance, on Mr. Snow's guitar, of (Now and Then There's) A Food Such As I and I Don't Hurt Anymore, two of Mr. Snow's biggest hits. When he finished, Stuart placed the guitar on a stand next to a sparkling stage costume, white with blue trim.
The Grand Ole Opry stage, its trademark barn backdrop decorated for Christmas, was adorned with more than three dozen flower arrangements, including one in a rainbow motif. Mr. Snow's band was known as the Rainbow Ranch Boys, and his home in Madison was known as Rainbow Ranch.
For an hour before the service, attendees filed by Mr. Snow's open casket to pay their last respects to the Opry veteran, who would have celebrated his 50th year on the show in January.
His friends remembered him as a stylist and perfectionist who took pride in the way he dressed. They recalled his humor, his skill as a guitarist and songwriter, and his uniqueness as a performer.
Canadian star Tommy Hunter said, "Canada loves Hank Snow like no other native son, that I can tell you. He's a legend from one end of the country to the other."
Several, including Opry stars Johnny Russell and Porter Wagoner and booking agent Billy Deaton, peppered their comments with imitations of Mr. Snow's precise, clipped speaking style, drawing chuckles from the audience.
Connie Smith performed Peace in the Valley and later led those assembled in Amazing Grace; Billy Walker did Fallen Leaves, a song closely associated with the late Grandpa Jones and I Will See You In The Rapture.
Steve Wariner chose his Holes in the Floor of Heaven; John Berry did two songs, including the hymn Blessed Assurance; and The Hemphills closed with The Only Real Peace.
Members of the Rainbow Ranch Boys, including steel guitarist Kayton Roberts, also performed. Others who offered their memories included Jean Shephard, who shared a dressing room with him at the Grand Ole Opry; David McCormick of the Ernest Tubb Record Shop; retired Gaylord CEO E. W. "Bud" Wendell and the Rev. T. D. Jennings of Springfield, MO.
A video presentation included a clip of Mr. Snow's induction into the Country Music Hall of Fame and home movie footage from throughout his career.
Among the many country music personalities on hand to celebrate Mr. Snow's memory were fellow Country Music Hall of Fame members Little Jimmy Dickens, E. W. "Bud" Wendell and Kitty Wells.
Also attending were Garth Brooks and wife Sandy, Jeanne Pruett, Melvin Sloan, The Whites, Bobby Osborne, George Hamilton IV, Johnny Wright, Ranger Doug Green of Riders in the Sky, Hal Durham, Carol Lee Cooper, Ralph Emery, Jeannie Seely, Jan Howard, Ronnie Pugh of the Country Music Hall of Fame, Opry announcers Hairl Hensley, Kyle Cantrell, Eddie Stubbs and Keith Bilbrey and Opry band members Joe Edwards, Leon Rhodes and Billy Linneman.
Wendell and Wagoner both recalled that Mr. Snow always ended his performances with a benediction: "Good luck, good health and may the good Lord always be proud of you."
Wendell said he surely had fulfilled that wish.
By Jay Orr