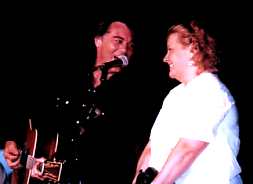 Marty tells Tami, "While you're up here, we'd like for you to stay awhile." Tami seemed to know what Marty's up to and she's shaking her head. Marty says, "she's gonna sing 'Hey Baby'." Marty and the band start playing the song. Tami refuses to sing. The crowd IS singing the song. Tami said she told Marty she wasn't going to sing. Tami decides she will sing but is nowhere close to the microphone. Well, Marty isn't going to settle for that either. He starts playing "I Got You Babe." By this time, Tami had warmed up to the fact that she was on stage with Marty and performed the duet. Don't they look precious?
Unfortunately, Marty changes the words to the song on her. The crowd is loving it, but how do you follow along to the words that went something like, "They say that we don't have a plot, that's 'cause Willie Nelson got all we got. And if that's true and we can't pay the rent coz he spent the money on dope before it got spent." Tami had a great time with this song. Marty says "eat your heart out Sonny and Cher."
Now back to where we were before Tami had to duet with Marty. Oh yeah, "Cry, Cry, Cry." Marty held a screaming contest with a young fan club member. Then he performed "Til I Gain Control Again." I should ask him why he chose this song out of all the beautiful ballads that Rodney Crowell has written. Not that I care--Rodney is a true genius (not to mention an incredibly nice person) and I'm thrilled that Marty has included one of his songs in his shows.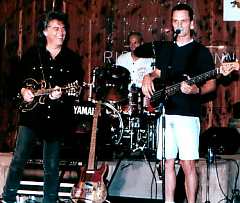 Marty asked what the date was "14th, 15th?" He says, "our record came out today." (Wrong, Marty) Someone corrected him and he said "tomorrow? I haven't had an album out in three years, what's one more day. Looks like you could at least buy a bootleg copy. Well here's one of my favorite songs on that record, and it goes...." They jump into "Red, Red Wine and Cheatin' Songs."
Marty's voice was getting a little rough. He talked about his Rock and Roll Cowboy band being the best band in country music (I agree). He said he'd never heard Steve Arnold sing. (Watch out...Marty gets ya when you least expect it.) At least Steve agreed. Marty said "since he's from Memphis, Tennessee, I think he should sing an Elvis song."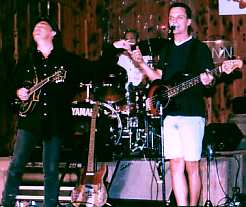 He told Steve to come in and sing when we felt like it. Marty played the mandolin and the intro and the first verse was an instrumental. Steve said he couldn't remember the words to the first verse, so Marty told him to sing the second verse. We all waited with anticipation to hear Steve sing. Here comes the second verse with Steve singing in a character voice. Was it Donald Duck? He was SO cute. He gets to the part where he sings "and I can't help falling in love with" and he adds "you, you, you, and you" and he's pointing to the audience. The he changes to his Elvis voice for the chorus! The crowd was in stitches. He talked the chorus. He got back to the Donald Duck voice for "take my hand." And Marty, takes his finger! Then Steve sings "everybody" and we all help finish sing the song. This was truly one of the best parts of the show.
Marty calls Randy Childers out. Randy had just celebrated a birthday -- he turned 40! Marty told Randy to get the guitar. Randy didn't want to. Marty insists that Randy get the guitar. Randy has worked with Marty about 10 years. Marty says "how many times did you fire me? Two or three? At least." Marty says "he takes good care of my guitars, he takes care of us. How 'bout a hand for this old fart." Marty asked Randy to play a little bit of "Wildwood Flower." Is there no end to the talent of the guys Marty surrounds himself with? Some of us have heard Randy play before and he IS in the bluegrass band, White Water. Randy can sing too. Marty did a little clogging to the song. Then we sang Happy Birthday to Randy.
Marty said Randy's name on the road is "Mule," and added that Randy loves Mike Copelin. Randy shakes his head. Marty says "they hate each other." Mike calls through the bullhorn "I love you Randy." Then Marty says, "hey Mike, chitty chitty bang bang, chitty chitty bang bang." Through the bullhorn, Mike says, "chitty chitty bang bang, I love you." Could we have any more fun???
Marty announced some birthdays and wedding anniversaries. A couple was celebrating their 57th wedding anniversary. Marty asked them how many kids they had. They answered "three." Marty says, " now you've got four 'cause I'm gonna give you Mike Copelin."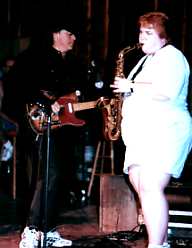 Marty then called Jennifer Robinson on the stage. Jenn brought her saxophone. At last year's party, Jenn and her husband Paul had announced they'd gotten married and had "Shelter From the Storm" played at their wedding. They were both back at this year's party. Marty asked her if she wanted to perform solo or have the band accompany her. Marty asked her what key she needed. Jenn didn't know, so she played the note. He said for Jenn to start the song off by herself and the band would join in. What song did Jenn play? "High On A Mountain Top."
Marty put his Pilgrim hat back on and the band joined right in on the song. Let me tell you--Jenn did a fabulous job and you will NEVER again hear that song performed on the saxophone! This was a once-in-a-lifetime opportunity. It was soooo good. Jenn, I never knew you were so talented. Believe me, it takes a lot of nerve to get up there on stage with Marty. As wonderful as he his....to perform musically in front of him has to be intimidating (right Tami?). Marty said, "We got the most talented fans."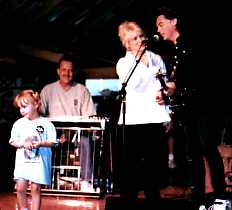 Marty recognized a fan from Canada and wanted to know who had come the farthest. He had everyone yell out where they were from. Those cities in Tennessee got the loudest laugh! Marty said "I know it costs a lot of money to get here. I know how many miles and how you feel about riding around in a car or a van or an airplane so we thank you very much for coming to be with us today."
Marty then called on his "baby" to come up and sing a song. Marty meant Connie Smith, but throughout the entire party, little three-year-old Anna-Marie Rose Decker had been yelling for Marty to sing "Hillbilly Rock." Finally, her grandma Margie allowed her to go to the bottom of the steps to the stage to yell the song title to Marty. There was no holding back little Anna. Marty motioned for her to come up on stage and she marched right up those steps. Connie had come up on stage from another set of steps. Marty says "Look what I gotcha Connie. I got her at Wal-Mart."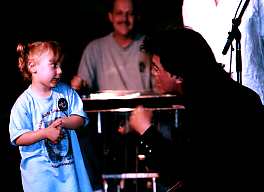 Little Anna loves Marty. She can't stop saying his name. She is the most adorable little girl and not the least bit afraid to go straight to Marty. Marty got down on his knees with her and was talking just to her. She started playing with her pigtails and Marty started twirling his own hair. It was the cutest thing. Connie was having a great time just watching it all and you can tell Gary enjoyed it as well. Finally, Anna gave Marty a hug and a kiss and was gone. You can see more of Anna later in this article and she will be on the Marty & Friends page -- Mario got the best picture of Marty and Anna together. (I think this little gal has a future in show business.)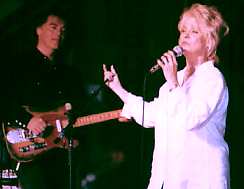 Connie said that she and Marty have written 30 or 40 songs over the last five or six years. "Got me in a lot of trouble." Marty made some remark about the comment and she said "I want my mama. I want HIS mama." She said she was going to sing the latest song they'd written called "If I Were To Lose Your Love." When Connie finished, she said "it wasn't that good." That beautiful lady can't sing a bad note! Someone yelled out "Once A Day," so Connie sang that next. Marty and the band are tuning up and Connie says "in F." Marty said "Did you say Happy Birthday to Randy? Connie said "Happy Birthday Randy. I love you Randy." After some more tuning, Marty says "Are you ready?" Connie says, "I'm ready."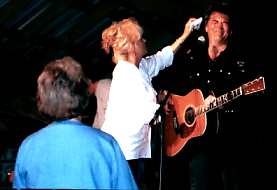 Some lady came to the front of the stage with a white cloth and asked Connie to wipe the sweat off Marty's brow and give it back to her. Connie was delighted to accommodate her. From the picture, it seems that Marty wasn't enjoying it much. I don't think he was prepared for it, but Connie was having a ball!
Marty said you haven't lived until you've gone to church with Connie Smith. He loves to goose her! She has the greatest laugh in the world. Marty said they'll go to church and when she's ready to sit down, he'll put his hand under her. You know...he's just the type that would do that!
Someone passed a note to Marty that asked if Marty could get this gal's older sister to come up on stage and sing "Rocky Top." Marty says, "I hate Rocky Top" (don't tell that to a Tennessee Volunteer fan). Marty said he'd play it if Debbie wanted to sing it. He could not convince her to come up on stage. He said "Maybe if you give her $10 she'll sing it."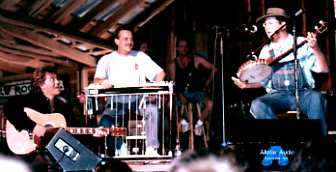 Marty then introduced one of his dearest friends -- LeRoy Troy -- a banjo picker from Goodlettsville, Tennessee. Marty had LeRoy on his bluegrass show in June 1994 so I was familiar with LeRoy. You get back to some great pickin' and singin' (and humor) with LeRoy. Marty called him "the real stuff." He said LeRoy was a "star," and said he was "my hero." He said LeRoy represented "real, honest-to-God pure hillbilly music." Marty sat himself on the stage, had his acoustic guitar, and just watched and listened and played some. LeRoy played "Mountain Dew," "Get My Skillet Good and Greasy" and "Jesse James." LeRoy has a way of turning his banjo over and around while playing. He is really phenomenal.